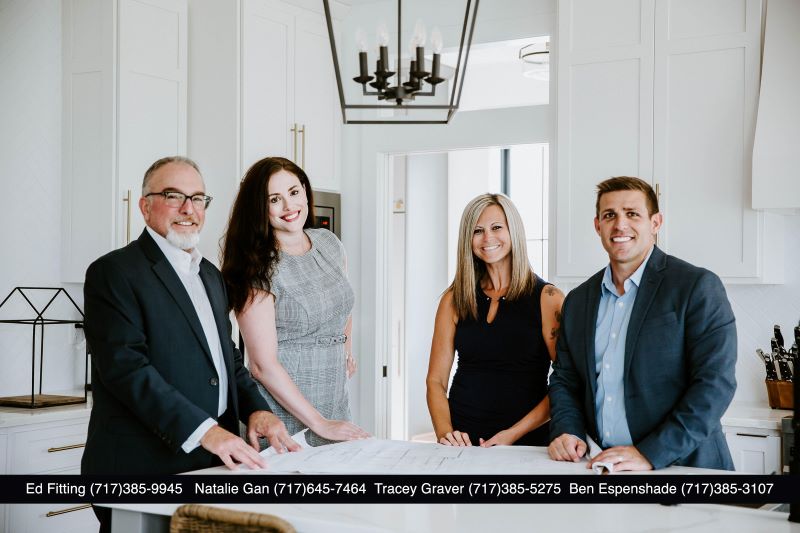 Ben Espenshade

Ben's number one goal is to make every client a client for life. With over 12 years of experience, he has helped many home sellers and buyers in the Carlisle and surrounding areas achieve their new home goals! A recipient of the Berkshire Hathaway HomeServices Leading Edge Society award for 4 consecutive years, 2015 - 2018, Ben is well versed in all aspects of the buying and selling process, which shows in the number of clients who have put their trust in him to provide them with a seamless real estate experience.

In his personal time, Ben enjoys spending time with his wife, Jen, and their two young daughters

Ed Fitting

With over 10 years experience, Ed's expertise can help you relocate anywhere! As your real estate representative, he will manage the purchase or sale of your home in an efficient and streamlined manner - always doing his best to make it a worry free transaction! Friends and family describe Ed as a happy and positive person, a perfectionist always striving to make others happy. These characteristics help him to work well with others in the industry, and negotiate strongly for his clients.

When he isn't selling real estate, Ed enjoys spending time with his family. He and his wife of 36 years, Kate, enjoy being with their children and grandchildren as much as possible. They also enjoy traveling with friends, especially to the beach!

Ed's greatest aspiration is "Fitting" you into your perfect home - contact him to get started!

Natalie Gan

Born and raised in Harrisburg, Pennsylvania, Natalie's clients appreciate her deep knowledge of the central PA market, her attention to detail and natural ability to make them at ease with the real estate sales process.

Natalie ventured from Harrisburg to NYC to pursue her passion for musical theater where she graduated from the American Musical and Dramatic Academy. After over ten years of performing, Natalie knew it was time to come back to her hometown to pursue her true passion-real estate.

Natalie's background in the arts contributes significantly to her creative, resourceful and client-focused approach to real estate. She knows that buying a new home is an exciting, life-changing event and is grateful for the chance to guide her clients through the process.

When not selling real estate, Natalie enjoys hiking, skating, spending quality time with friends and family and is passionate with all things home and interior design!
Tracey Graver

Tracey is a newly energized realtor, who recently came from 15 years working in the mental health field as an office manager. She received a call from a longtime friend asking if she wanted to do more to help people in her community. Tracey, with the help of her team that has over 20 years of experience, got licensed and is ready to hit the ground running as she begins this new career. Ben Espenshade and Ed Fitting has given her the tools and inspiration in helping those find their dream and their future.

Tracey was born and raised in the Carlisle/Plainfield area. She loves running and being outdoors especially in the summer, where you can find her working part time at the local carshows for Carlisle Events. In her spare time, she loves spending time with her husband, James and their children, Drew, Tristen, Quinn and Adrien.