De-cluttering. In my opinion, the most important step of the staging process! While it does take a good amount of time and work, the benefits far outweigh the negatives. When potential buyers come in to your house, you want it to be easy for them to visualize themselves - and their stuff - in the home. Additionally, it will make the house look larger and appear to have a lot of storage space - both big selling points! Here are some tips to sail smoothly through the de-cluttering process.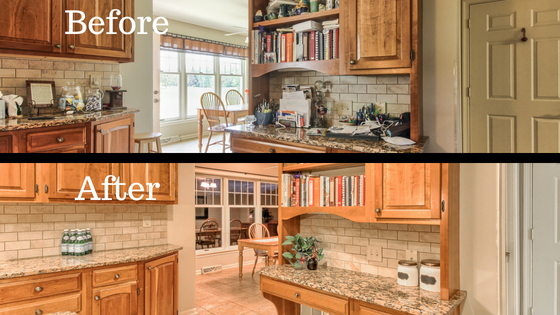 Remove all pictures and personal affects from the walls and tables. While these items obviously have sentimental value to you, they will distract the potential buyer from envisioning themselves living there. Just remember, you'll soon be unpacking these items again in YOUR new home!
In the kitchen and dining areas, clear all counters and tabletops and make sure they are spic and span and free of stains and dust. Pack away anything not related to dining, as well as any pots/pans/dishes that you can live without until you are moving to your new home.
In living room, family room, and office type rooms, minimize your furniture and decor. Keep in mind, you want to show potential buyers maximum space! Pack away unnecessary end tables, floor standing decorative plants, bookcases, etc. Make sure floors are vacuumed or cleaned, and all surfaces free of dust. If pet odors are an issue, hiring a service to do carpet and upholstery cleaning would a wise investment.
In bedrooms, pack away any non-seasonal clothing, toys, and decor. If at all possible, a neatly made bed, night stand, and dresser should be all that is visible when someone walks in to a room. Organize closets to maximize space and usability.
In bathrooms, the theme remains the same...clear away anything you won't need! Counter spaces should be empty except for hand soap and a hand towel. Go through your cabinets and throw away anything that has expired or is no longer necessary. Toothbrushes, makeup, etc. should all be kept (neatly!) in a drawer or cabinet. Make sure that all surfaces in the bathroom are spotless. Replace any cracked caulking or grout.
Make sure garage areas are swept and organized as best as you can. If you are showcasing a work bench, keep some tools in that area - otherwise, they go away. The same goes for camping or sports equipment, outdoor toys, paint, etc. If you do happen to have paint that you've used in the house, labeling the cans with the room and color would be much appreciated by the new owners!
Now - where to stash all the stuff you just packed up. It is counterproductive to use storage space in the house, because you want to keep those areas as clear as possible. Renting a storage unit or asking a friend or family member to borrow their garage is your best bet.
The basic rule of thumb to remember when de-cluttering is, less is more! The less stuff you have around, the more space you are showcasing. Think of it as pre-packing...once your house sells, you'll have to box everything up anyway. This gives you a head start!
Coming tomorrow...what decor to use in your freshly de-cluttered home!