Alright, so your curb appeal is top notch, and you've done your time de-cluttering. What's next? Decorating! The name of the game here is going to be 'updated and neutral'. You want to appeal to the masses, so sticking to basic elements with a sporadic pop of color is going to be the way to go. Let's take a walk room by room to discuss the best ways to complete your staging décor!
Living Room - This room is important, as it is where your potential buyer will envision him or her self spending most of their time. Keep your furniture pulled off of the walls, and arrange it around a focal point - the fireplace is a great option! If your furniture is not in the best shape, invest in some slip covers or nice throw blankets and pillows (pro tip - TJ Maxx and Marshalls have really nice inexpensive ones!). Adding a mirror will create the illusion of more space. Keep your other decor simple...perhaps a nice painting on the wall, and a vase of fresh flowers on the coffee table.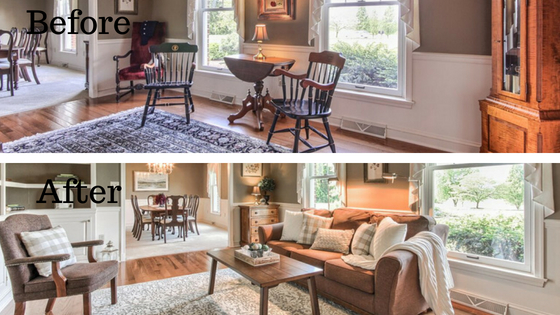 Kitchen - If you followed all of the instructions for de-cluttering, you should be working with a fairly blank canvas here. Add some greens, or a nice cookbook in a decorative stand on the counter. Place a nice teapot on the stove top. A nice wooden bowl of fruit centered on the counter or island space is a nice touch as well!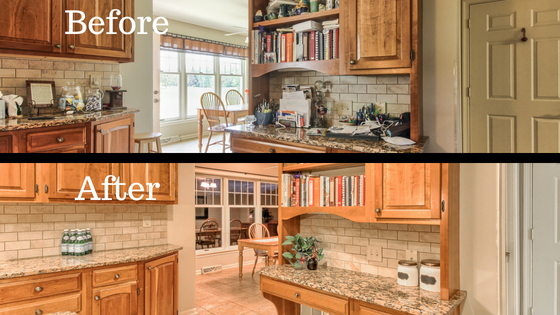 Bedrooms - Creating a comfortable space is the main goal when decorating the bedrooms. Swap out your everyday bedding for a bed set with a more luxurious look. You don't need to spend hundreds on these - again, TJ Maxx or Marshalls have great options for not a lot of money (I swear I'm not a paid rep for these stores!). Coordinating throw pillows add to the dressed up look. If you have hardwood floors, adding a neutral colored rug to the foot of the bed is a nice touch. Add something pretty to a wall, and you're done!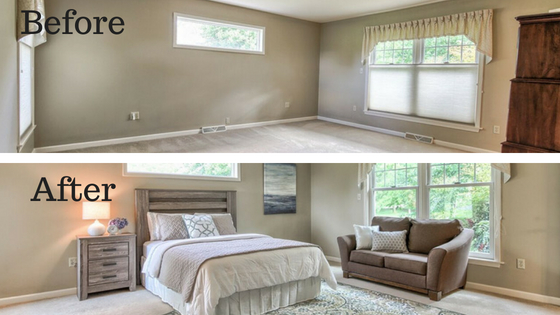 Bathrooms - Last, but certainly not least - the bathrooms. Again, you should be starting from a clean slate after de-cluttering, so all you need to add in here is a bit of style and you're all set. As mentioned previously, toiletries should be hidden away. Place a set of fresh towels on bars and rings, and a matching hand towel on the sink. Add a bottle of fancy hand soap, a candle or two, and perhaps a silk flower arrangement or green, and that's all it takes!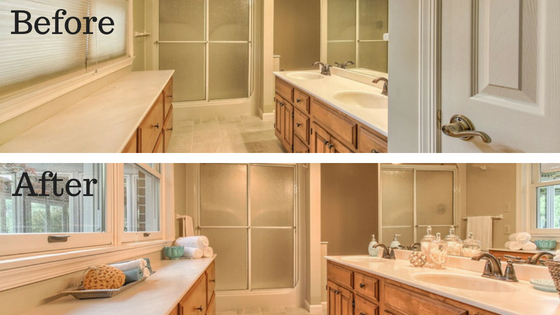 You did it! The stage is set for a successful selling process. Now just make sure to keep up with everything - making the beds, dusting, and vacuuming/mopping should become a part of your daily process. Showings are often scheduled with little notice, so keeping these tasks at the top of your to do list will ensure you're never caught unprepared.
Happy selling!